opera and other arts and culture through the German Concession period. Waterfrom Design was commissioned by China Resources Land to construct the interior layout of the property sales office (also known as the reception center) in Qingdao, using Wagnerian opera music full of colorful conflicts and surging emotions to reflect the endlessly changing ocean outside the window, incorporating a spatial narrative to compose the continuity made of twists and turns.
.
The exterior of the building is a performance stage that appears to leap out to sea, with a long, far-reaching glass curtain displaying the concrete curtains that appear on stage. The nine-meter-high structural wall, created by the designer's freehand lines drawn on paper, draws inspiration from the strange rock crevices that lap the shores of the stormy waves, solid and rugged. The spatial volume is the main core of the staircase, alluding to the fact that the people moving through it are like the sea water flowing between the rock crevices, flowing freely, bridging different floors and achieving a vertical functional aesthetic in response to nature.
The entire sales office building is made of a transitional space that connects two buildings in volume. The tiny corridor that connects the two buildings is like the soft music in the prologue of an opera, which makes the mind suddenly calm down, and the exciting emotions driven by the singer are like the ebbing tide of the sea. Immediately afterwards, the next wave rises, compressing and releasing the senses, creating a visual and physical transition. At the front of the space is an organic concrete structure that responds to the waves; at the back of the space is a sloping wall that follows the shape of the building, and a V-shaped column that promotes a geometric dialogue, deepening the aesthetics without elaborating on the simple shape. The entrance and exit of the sloping wall is a lecture hall classroom.
Returning to its original simplicity, the interior structural volume creates the respectability of the sea in a large scale. Through the sea, Qingdao has brought fishing, commerce, art and culture, all of which are now distilled into the historical trajectory of the building. The shimmering light of the water on the pure concrete wall is like a singer's curtain call, gently celebrating the city and nature's time, capable of evoking praises and tears.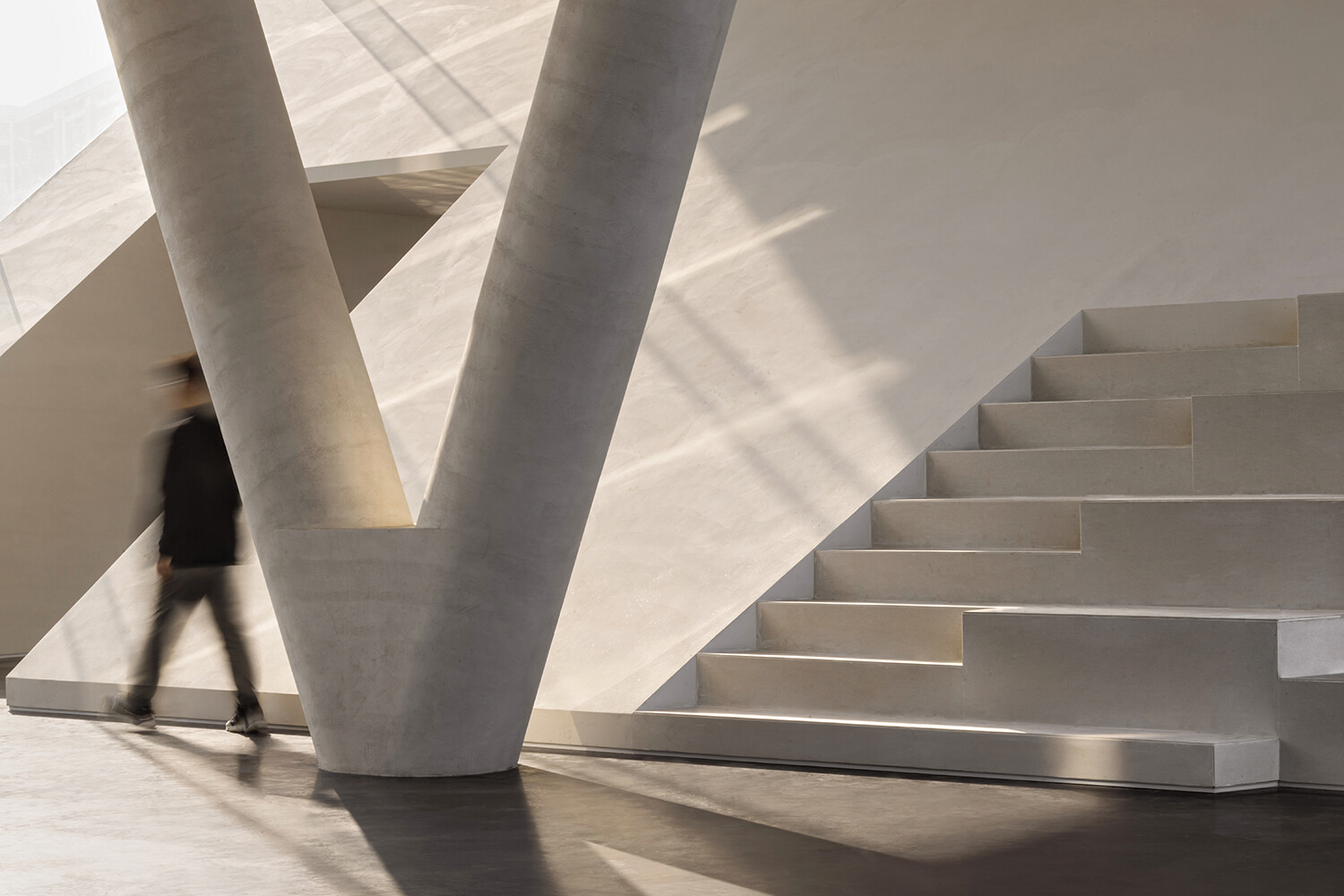 青島座落中國海岸線北端,歷經德租時期,廣受日耳曼建築與音樂歌劇等藝術文化深植,在沿海浪潮中自成一格文藝都市。水相設計受華潤置地委託於青島建構房產接待會館的室內佈局,設計者以充滿色彩衝突、澎湃情緒的華格納歌劇音樂,對映窗外無盡變換的海洋,融入空間敘事手法,編寫起承轉合。
建築外觀是一座彷彿躍然海上的表演舞台,玻璃帷幕綿延而深遠,展示著台上出將入相的水泥布帘,那九米之高的結構牆體,藉由設計者潛心於紙上手繪的自由線條而生,靈感汲取自洶湧浪潮拍打沿岸、造型稀奇的岩縫得來,穩固而崎嶇,在空間量體中作為樓梯主核,暗喻著穿梭其內的人員似是流動岩縫間的海水,肆意奔流,銜接著不同樓層,成就回應自然的垂直機能美學。整座售樓處建築,是以一座過渡空間銜接兩幢量體而成。銜接兩座遠高建築的微小走廊,如同歌劇序幕間轉場的輕柔樂音,使心靈倏忽平緩,本隨歌者帶動的激昂情緒如退潮海水遠去,緊接著,漸入下一波逐浪而起的波濤,感官進行壓縮並釋放,從視覺與體感創造了過場。空間前端以有機型態的混凝土結構,回應浪潮;空間後端則是一道順應建築造型的斜牆,與V字形圓柱張揚了幾何的對話,簡練造型不多加贅述,即深化了美感。斜牆上的進退,是舉辦課程、講座的階梯教室。