Located in the heart of bustling Taipei, the designer named the space "Mellow House". Following the softness of the word, the space is blurred with low saturated earth tones, and the furniture bounces lightly like pastel-colored blocks, bringing a soft and comfortable feeling when you open the door.
The space is picturesque, with earth tones rendering the open living and dining rooms, and continuing along the same color floor to the semi-open study and kitchen behind the glass tile wall, and then entering the hallway from the kitchen to see the floor-to-ceiling wall. However, the beauty of the same color also creates a design challenge for the designers. The walls, bookcase surfaces, kitchen cabinets and flooring are all seemingly the same color, but in fact, they are made from different materials with the same color adjustment. For example, the concrete flooring in the living room has been color-matched for consistency, while the kitchen countertop and backsplash are made of Spanish selite to show the texture of the stone in the same way. When the sun rises in the east, the diverse textures of the materials are illuminated by the sunlight, just like the mottled brushstrokes of an oil painting with charming light and shadow.
In the painting, there is a six-meter long raw concrete bench in the foyer, which is a shoe bench and a functional low cabinet for audio-visual entertainment. The long geometric sculptural body with limited fulcrums shows the structural tension, and also the consistent color technique in the segmented pre-cast high-strength cement volume makes the Red River Clay of Pantone System color sample the focus of attention in the painting. In the corridor, an open doorway reveals a blue bathroom space with a bold and avant-garde touch. The contrast between the light and dark colors is reflected in the glass tiles, adding a layer of brightness and airiness.
When the earthy color enters the sunny master bedroom, there is room between the dark green Ash wood closet and the bedside, creating a ceremonial atmosphere of walking into the pseudo-dressing room, and at this time, an infinite rhythmical cycle is coiled. The hallway continues to wind around the kitchen, study, living room and dining room. The couple and their husky roam freely in the quiet and sometimes lively space, creating their own pace of living in the crowded urban environment, spacious and comfortable, relaxed and at ease.
身處熙來攘往的台北核心,設計師將空間取名為「Mellow House」,循詞彙間那份柔和,以低飽和的大地色調暈染了空間,家具如同粉彩色塊輕盈地跳躍,在打開家門的剎那,襲來溫柔舒適的感受。
空間如畫,大地色系盡情渲染了開放式的客廳、餐廳,並沿著同色地坪,延續到玻璃磚牆後方的半開放式書房與廚房,再從廚房進入廊道,看見全然同色柔和的天地牆。然如此相同色澤之美,也為設計師建立了富有挑戰的設計難題。從牆面、書櫃表面、廚房櫃體以及地坪等,皆是看似同色,實則於不同材料中去做相同發色調整而成。如客廳水泥地坪即是經過特殊對色而呈現一致性,廚房流理台與背板,則以西班牙賽麗石呈現同中求異的石頭紋理,每當旭日東昇,多元的材料紋理在陽光照映下,便如同油畫斑駁的筆觸有了迷人的光影。
油畫中,在玄關有著一座長達六米的清水模長凳,是穿鞋凳,也是視聽娛樂的機能矮櫃,悠長幾何雕塑體,以有限支點展現結構張力,也在分段預鑄的高強度水泥量體發揮顏色一致的嫻熟工法,使Pantone 系統色票的Red River Clay,成為畫中引人凝視的焦點。而廊道中,一隅開啟的門片,展示出湛藍有致的衛浴空間,遍地柔和間忽有大膽前衛刺激了視覺感官,透過大面積單色調突顯單點跳色的構圖,亮暗色塊的對比在玻璃磚透映下,增添了一層清亮的空氣感。

當大地色走入陽光爽朗的主臥房,墨綠色梣木衣櫃與床頭之間有著餘裕,於是創造了走進偽更衣間的儀式氛圍,此時也盤繞出無限循環的節奏動線。環繞出廊道,持續蜿蜒在廚房、書房,客廳與餐廳之間,屋主夫妻與飼養的哈士奇,自由地遊走在安靜時而、活潑時而的空間裡,在都會擁擠的環境,打造出屬於自己的居住生活步調,寬敞而舒適,恬閒而自在。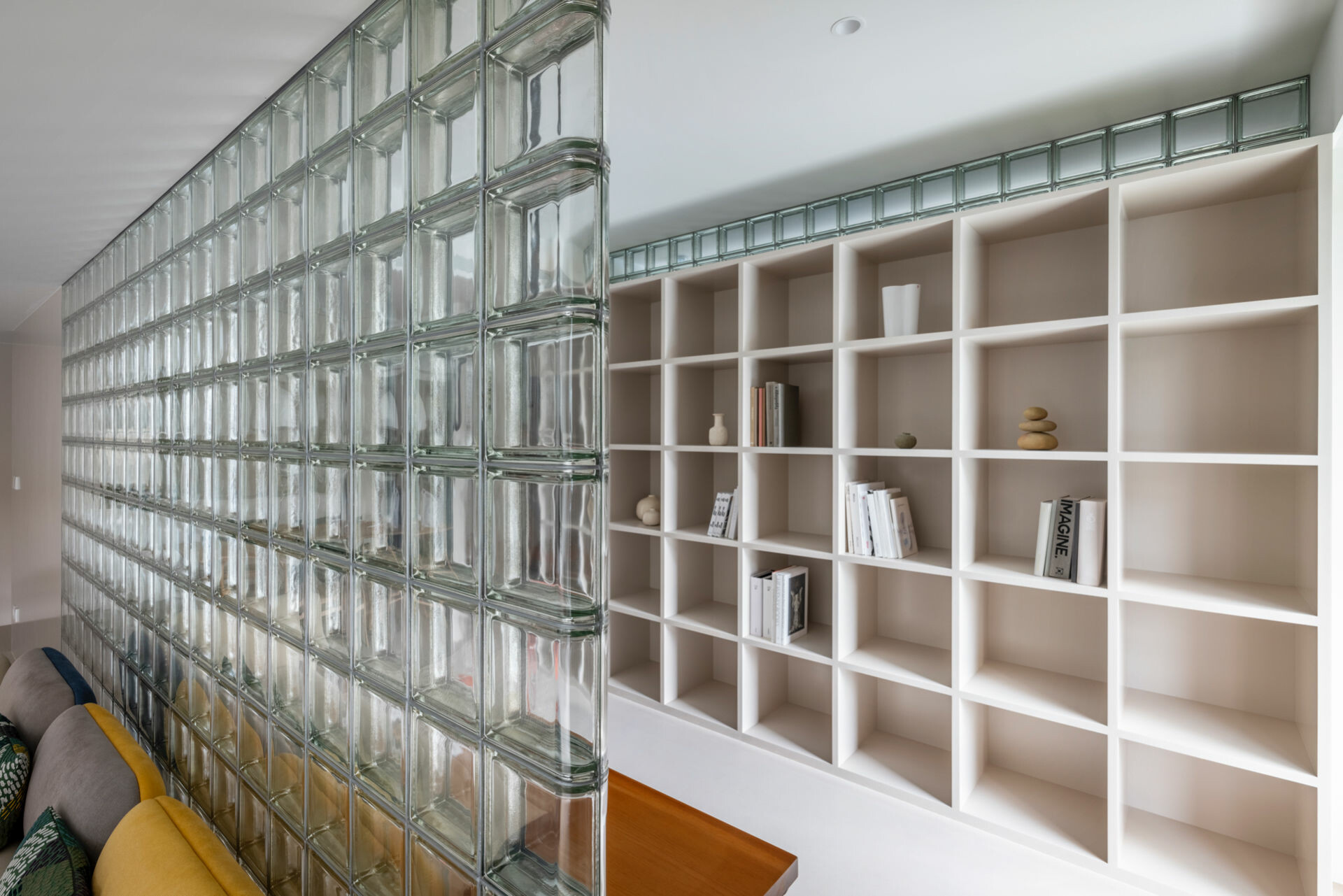 —
PSW建築設計研究室 | Phoebe Says Wow Architects